Last Updated on June 22, 2017, 3:13 p.m.
Deep sea fishermen appear to be vulnerable to sexually transmitted diseases due to a lack of sexual health literacy, access to healthcare and drug dependency, a study has found.
This was discovered through a joint study by Tenaganita, Malaysian AIDS Council (MAC) and the Centre of Excellence for Research in AIDS (Ceria) with the support of the World Wildlife Fund ( WWF), where they interviewed 127 fishermen, both local and migrants, from six states in Peninsula Malaysia.
Over 50 percent of the respondents, who work on larger boats, said they have never used condoms during penetrative sex with their primary partner, with 16 fishermen saying they have had intercourse with sex workers.


The study noted that this not only increases HIV risk among the fisherfolks but also exposes them to other sexually transmittable diseases (STD) like herpes and gonorrhea.
Several among the fishermen insisted that they were able to identify women without sexual diseases by their appearance alone.
"There's no satisfaction (with condoms)... I don't know the women. If she's unkempt I don't pick her. I have standards," said an unidentified 49-year-old Burmese fisherman from Pahang, as stated in the report launched by Tenaganita and WWF in Petaling Jaya today.
While there were those who used condoms during intercourse with sex workers as they understood there was a higher risk for sexually-transmitted infections (STIs), they believed that the condoms would prevent transmissions of all STIs.
Thus, they believed, it would be safe to have unprotected sex with their primary female partner.
"I usually go to sex workers from karaokes in Thailand... With my wife, I don't use condoms. But outside, I do," said a 35-year-old Thai national in Kelantan, according to the report.
One of the researchers, Liva Sreedharan, said that there are also misconceptions about how HIV is transmitted, with some believing that it can be transmitted through eating utensils.
The study also highlighted a fisherman who had been diagnosed with HIV in prison and did not receive proper treatment for it, as he was unaware that medication was free for Malaysians in government health facilities.
"He (the prison medical staff) said I have HIV. While living outside (prison), I've never shared needles, and I don't feel like I've got HIV.
"I doubt (the results). But he said I've got it, and I still haven't gone to the hospital," the 27-year-old Malay fisherman from Terengganu reportedly said.
Fishermen also seem to be vulnerable to contracting HIV due to an exposure to drugs, as the study showed that 37 of their respondents reported using drugs in the last 30 days.
The respondents said that drug use was necessary to work their long hours.
"Usually during the rest time, people like us, if our bodies are weak and all that, we have to take a hit (drugs), then cook rice, and if we're feeling particularly hardworking, we repair the nets," one of the fishermen reportedly said.
This corresponds with a 2004 study which found that boat captains ignored drug use as long as work was carried out.
In a case study on Ahmad, 35, the report noted that he has a long scar running down his arm, an injury he sustained at sea when he slipped on deck and hurtled into a piece of metal.
He received 15 stitches for that injury, and was back at work after a day of rest, said Sreedharan.
The study discovered that none of the respondents had a written work contract and as such, receive no social security benefits. As Ahmad does not have a contract, his earnings are unstable and irregular, according to the report.
He said he also used to be dependent on crystal methamphetamine and regularly visited sex workers, though he has since stopped to focus on earning enough to support his daughter.
Respondents to the latest study also reported poor living conditions on these boats, who go out to sea from several days to weeks. They claimed that none of the boats had flushing toilets and were forced to sleep in cramped and unhygienic quarters.
There also appears to be very little safety regulations and protocol on the boats, according to the respondents.
Though 82 percent of them stated they had received a safety briefing from the boat captain, these briefings do not seem to be based on any standard protocol.
"No one teaches you how to do this job. You just follow what other people do," one fisherman from Terengganu said.
The report also showed that 11 of the 34 migrant respondents were recruited as fishermen below the age of 18.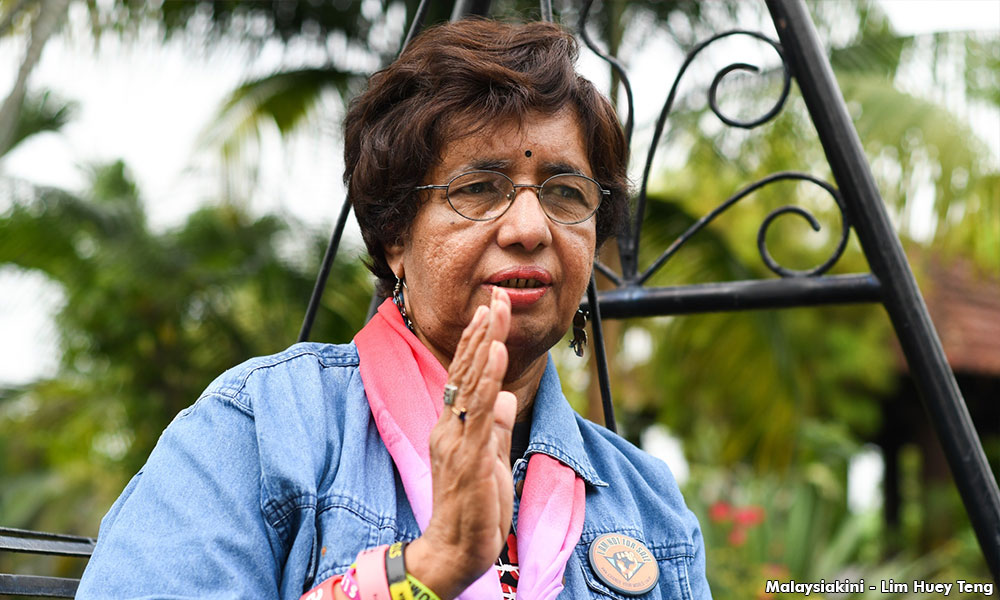 "No way should children be recruited," Tenaganita director Aegile Fernandez (photo) said, during the launch of the report.
However, she said Sarawak seems to be moving in the right direction, relating a case they handled where migrant fishermen were brought to Sarawak to sign written work contracts and to have their passports checked by the authorities before being sent to work at sea.
"These are some good practices. We should learn from this," she said.



Unfortunately, she said, these cases of abuse faced by fishermen have never led to anyone being charged due to lack of supporting evidence.
Most of these fishermen, she said, are illiterate, and some of them do not even remember the identifying number of the boats they work on.
There is also very little public awareness about the issues fishermen face, she said.
"That's the attitude consumers have. We don't ask, where does this fish come from," she said.



Source: http://m.malaysiakini.com/news/386338